Ask a Question
24953 Paseo de Valencia
Suite 6C
Laguna Hills, CA 92654

About Dr. Ivan Ho
For more then 19 years Dr. Ho has been practicing dentistry in Laguna Hills, California. In 2001, he expanded his dental expertise by opening Platinum Dental in Rancho Santa Margarita. Dr. Ho has been a pioneer in improving the present state of dentistry, primarily by using the most sophisticated, patient- friendly ways of delivering advanced dental care.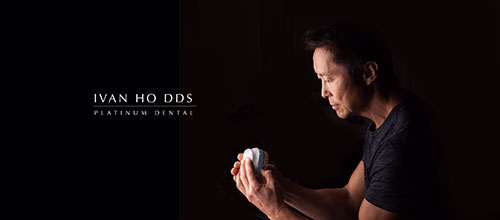 Dr. Ivan Ho received his Bachelor of Science in Psychobiology from UCLA in 1986 and his degree in dentistry from USC in 1990. He is a member of over 10 different professional societies including The American Dental Association, California Dental Association, Orange County Dental Society, Diplomate of the International Congress of Oral Implantology, Fellow in the American Academy of Implant Dentistry, Loma Linda Implant Study Club, American Academy of Cosmetic Dentistry, Laser Dentistry, and Computerized Dentistry. He is also the chairman for the Orange County Dental Society Emergency Care Panel as well as serving on the Peer Review Committee. He has achieved diplomate status from the International Congress of Oral Implantology, graduated from the world renowned MISCH Implant Institution, and received mastership training in Cosmetic Dentistry at the Las Vegas Institute (LVI) for Advanced Dental Studies.
Dr. Ho has lectured in the United States as well as internationally in both Cosmetic and Implant Dentistry for the Orange County Professional Education Society, Orange County Implant Training Center, Innova Implant Corporation, and BioHorizons Implant Systems.
Dr. Ho has appeared on local and national television programs, and he was recently featured in the Saddleback Valley News and Rancho Santa Margarita News, two community papers of The Orange County Register. He has taught at University of Southern California on clinical dentistry and laboratory procedures.
Dr. Ho is proud to offer the latest technology to his patients, and he is one of the few dentists in Orange County to offer the PRP (Platelet Rich Plasma) procedure to his patients. He is also among the nation's top 100 Invisalign experienced doctors. Dr. Ho is also a few handful of dentist in the world to utilize 'Stem Cell" in bone regeneration and was able to provide teeth for patients with implants where otherwise could not.
In his free time, he enjoys surfing, snowboarding, mountain biking, flying planes, and skateboarding. Dr. Ho frequently volunteers his time and expertise at the Children's Dental Center in Los Angeles as well as "Give Back A Smile" under the American Academy of Cosmetic Dentistry. He treats battered women and women suffering from domestic abuse and violence and restores their teeth and dignity. He continues to pursue his quest for further knowledge in dentistry by attending 100-300 hrs annually in continuing education.
We work hard with your insurance for every qualified payment. You should always contact your insurance company to get confirmation before doing any procedure. We work often with Care Credit and take most major credit cards. Contact us if you have any questions.
949.880.6638